XCL Management is proud to congratulate Huddersfield RUFC on their promotion to the National League 2 North.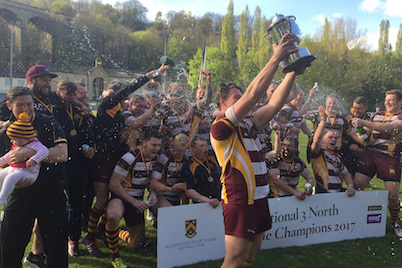 XCL, which specialises in recruitment into the construction, facilities management, environmental and engineering sectors, have been sponsors of the team throughout the season, and managing director David Gallagher, previously sponsored both the Rugby Union Club and Huddersfield Town when he ran Prime Time Recruitment.
Huddersfield RUFC not only won promotion with a 47-14 victory over neighbours Cleckheaton, but by the end of the season had a 100% record and became the first Field side to go a season unbeaten.
Mr Gallagher said: "I am delighted that we have been able to sponsor the team this season and that they have been so successful! It has been a fantastic season in which we have rebuilt strong ties and forged new ones with the club."
HRUFC general manager Stuart Leach said: "We are pleased to have had XCL Management on board as a partner for National 2 North this season. We have a long standing relationship with David and Ewan Gallagher and were delighted to welcome them back to Lockwood Park."